Signing Up For PayPal

or

Alternative Payment Processor Account
* If you already have a PayPal account set up and active you can skip this part of the tutorial.
If you don't have a PayPal account then you can learn how to sign up for a free PayPal account in this section of the training.
If you can't use PayPal — as maybe it is not available to your country, or you don't want to use PayPal, etc. No problem! You can select to be paid by mailed check (when offered) for your earnings, or use the alternative payment processor we will provide on this page.
If you can use PayPal we will strongly suggest to use PayPal. The reason is that most of the companies that will send you work prefer to send payments to your PayPal account. This makes it easier for them to send out mass payments and keep good online records of their payments.
PAYPAL SIGN UP TUTORIAL
PayPal will work like an online bank account. Money from the companies you will be working with will transfer your pay earnings into your PayPal account.
You can then link your personal or business bank account to your PayPal account for which you can then transfer the money directly to your linked bank account from your PayPal account.
If you do not have a bank account or don't want to link your bank account to your PayPal account you can have PayPal mail you a check directly. There may be a small additional charge for PayPal to mail check.
Countries Allowed to Use PayPal:
1. Click from the drop down menu below to see if your country is listed:
* If your country is not listed then you can refer to the alternative payment processor we provide below.
2. You must link at least ONE of the following to your use all the features in your PayPal account:
Bank Account: Personal/Business Checking or Savings account or
Credit/Debit Card: Visa, Master Card, Discover, or American Express. If you don't link one of the listed above, you can still receive money (limited amount per month). You would then request a payment by check from PayPal for the money sent to your PayPal account. We will suggest to try to at least link a bank account which will not subject you to any limits.
3. Verify your ID: You will need to possibly need to send by fax/mail or email of two forms of ID to PayPal. One will be ID such as drivers license or passport, etc. The other ID will be a phone bill, utility bill, etc. to confirm your mailing address. The reason we say possibly is because PayPal doesn't check all accounts. We will guarantee you when you do start receiving large amounts of money for the jobs you will be doing PayPal will then send you an email they need to verify your account.
4. Taxes: U.S. Residents will need to provide a SSN (Social Security Number) or EIN (Employee Identification Number). This is because PayPal will send you a 1099 for your earnings which will make it easy for you to track your earnings for taxes.
* If you were able to set up a PayPal account you don't need to set up the alternative payment processor below below:  
Alternative Payment Processor We will list an alternative payment processor you may use instead of PayPal.  * Note: Not all companies or payment admin accounts will send payment to Moneybookers/Skrill, but many do so you will still get to do many of the job programs we provide by having a Moneybookers/Skrill account.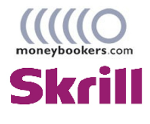 Check the drop down menu of countries to see if your country is listed at Skrill/Moneybookers:
If your country is listed then you can receive payments through Skrill/Moneybookers.
To set up your Skrill/Moneybookers account CLICK HERE Select your country.
Then your language, and click on the "Sign Up" button under "Personal Account."
You will then sign up using the registration form. The email address you use for your sign up will also be your Skrill/Moneybookers payment email ID.
After you have signed up you can login to your account. Skrill/Moneybookers will put a $1000 USD limit of receiving funds on your account with no verifications. You can raise your limit to as much as $30,000 USD per month if you verify your address, bank account, and personal ID.
You will be able to withdraw your earnings from your Skrill/Moneybookers account by the following:
Bank Account Mazooma (money transfer service)
PaySafe (money transfer service)
Liberty Reserve (money transfer service)